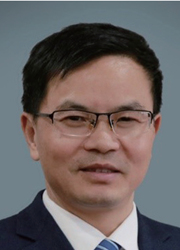 Zhou Liyang
Chairman of Juhua Group Corporation
Standing Member of CPC Quzhou Committee
Chairman of Zhejiang Petroleum& Chemical Industry Association
Zhou Liyang, male, time of birth: March 1968, place of birth: Jiangshan, Zhejiang province; master of engineering, master of business administration, professorate senior engineer, outstanding talent of Zhejiang "Ten Thousand Talents Program", Zhejiang 151 talent and Quzhou 115 talent.
Mr. Zhou started working from July 1992. He once served as general manager of Zhejiang Quhua Fluor-Chemistry Co., Ltd.; general manager of Zhejiang Juhua Co., Ltd.; deputy chief of regulations division of Zhejiang Science and Technology Department(on secondment), deputy general manager of AVIC International Holding Corporation(on secondment); board member, general manager of Juhua Group Corporation and deputy secretary of CPC Juhua Group Committee.
Current positions since January 2021: Standing member of CPC Quzhou Committee, chairman of Juhua Group Co., chairman of Zhejiang Juhua Co., Ltd.; Concurrent positions: chairman of China Electronic Chemical New Materials Industry Alliance, chairman of Zhejiang Petroleum& Chemical Industry Association, vice chairman of Zhejiang Petrochemical Co., Ltd., adjunct professor of Zhejiang University Polytechnic Institute, visiting professor of Zhejiang Normal University, etc.